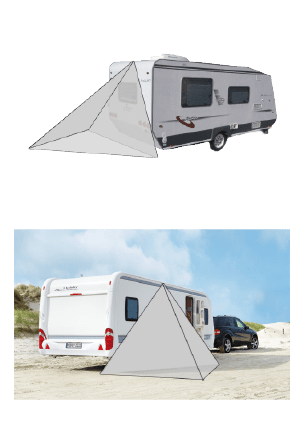 Overtaking, reversing, parking or merging onto the freeway… it will be recognizable to those who spend a lot of time with a caravan on the road. Van Zwitserland BV has a nice solution for many of these issues. These reversing camera systems are specifically designed for use in caravans. With a camera system you increase the driving pleasure and safety on the road and you reduce the risk of damage. More and more people are equipping their caravan with a rear view camera. Our wireless camera systems are digital so they're interference free.
Camera systems for Caravan companies and installers
Equip your caravans with one of our reversing camera systems and provide your clients maximum security. We are happy to advise you on the best possible applications for your recreational vehicles. Call us for a free consult at 015-21 25 111 or contact us via the contact form.
VZ107 wireless camera for Caravans
By default, we recommend this high quality system. It provides a robust wireless rear view camera and a 7″ LCD screen only 1cm thick. The system is easy to install by yourself and can be extended with a second camera to keep an eye on the blind spot as well. The camera is placed on the back of the caravan and is connected to a transmitter, the power comes from the rear lights. The monitor and the receiver are placed in the front of the car.
More information on the VZ107 wireless reversing camera system >>
Order a VZ107 wireless rear view camera >>
VZ107W reversing system for caravan – wired alternative
A wired system will always give the best connection, despite the enhanced digital wireless technology. We therefore recommend this alternative If you have the possibility to pull a cable through your car. This caravan rear-view camera system consists of the VZ107W set including a 7-pin cable.
More information on the VZ107W wired rear view camera >>
Order a VZ107W wired reversing camera >>