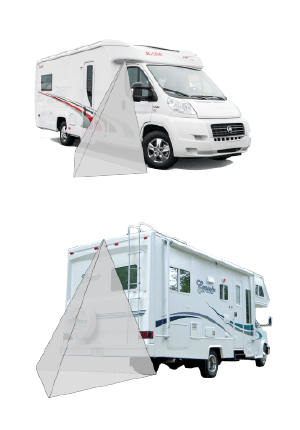 With a RV rear-view camera of Van Zwitserland you increase your safety in traffic and reduce the chance of damage. Moreover, with a rear-view camera system it's just an easier and more enjoyable ride. Many people experience that overtaking, reversing or parking with a RV can be extremely difficult sometimes. Since 2005, Van Zwitserland is the absolute number one in the Netherlands and Belgium when it comes to reversing camera systems for motorhome drivers. We supply a wide range of vision solutions and reversing camera systems, specifically for installation on caravans and motorhomes. Damage free holidays and safety on the road are the main reasons for our customers to choose a rear view camera system as a travel companion.
RV companies and installers of camera systems
Equip your motorhomes with one of our reversing camera systems and provide your clients maximum security. We are happy to advise you on the best possible solutions for your recreational vehicles. Simply call us at 015 -21 25 111 for advice or contact us via the contact form.
Consumer reversing cameras for motorhomes
Increase safety for yourself and bystanders with one of these camera systems:
VZ107W camper wired camera system – the bestselling system in the Netherlands
By default, we recommend this qualitative reversing camera. The system provides a robust reversing camera and a 7 "LCD screen, only 1 cm thick. The system is easy to install by yourself and can be extended with a second camera to keep an eye on the blind spot as well.
More information about VZ107W wired motorhome reversing system >>
Order direct a VZ107W wired reversing camera system for your RV >>
VZ107 RV wireless camera
If you are in possession of a "smaller" RV (up to about 5.5 meters) and don't like to install a wired system, our wireless system, the VZ 107, is a suitable solution for you.
More information about the VZ107 wireless motorhome reversing camera system >>
Order now the VZ107 wireless rear view camera >>
VZ207W professional reversing camera
If you like to have the best of the best, you might want to choose our PRO line. This system is used in the logistics and transportation industry, but is also suitable for your RV. The VZ Pro 207W is a very high quality system, has 15 meter night vision, operates from 12-32V and up to three cameras with audio reception can be connected to the monitor.
More information about the VZ207W Pro reversing camera >>