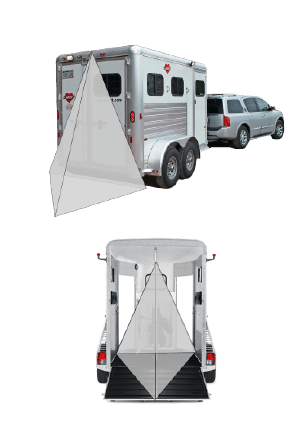 With a camera in your horse trailer you can keep an eye on the horses while driving. Depending on the number of horses in your trailer there's the possibility to mount several cameras. Our rugged and waterproof cameras are very suitable to use inside horse trailers. Whether the horses are causing a lot of condensation, or whether you're driving on a bumpy road; you'll always have a crisp stable image. An extra camera can be placed for extra visibility when reversing. The system can shift automatically to the reversing camera when the shift lever is put in reverse, but switching manually between cameras is of course possible too.
Consumer reversing cameras
With a horse trailer camera, you can choose to place a camera inside the trailer to keep an eye on your horse. You can also opt for a system with two cameras so you can see what is happening in and behind the trailer. So many people, so many wishes. Because of the large number of possibilities and differences in trailers we would like to advice you in the best possible solution for your specific situation. Just call us at 015-21 25 111 and one of our colleagues will be pleased to help.
VZ107 horse trailer rear-view camera set with one camera – wireless
More information on the VZ107 wireless reversing camera systems >>
Order now a VZ107 wireless rear view camera >>
VZ107 horse trailer set with two cameras – wireless
This set provides a complete view inside and behind the trailer. The set consists of 2 wireless cameras that can be displayed on the 7″ color monitor.
Order directly a VZ107 set with additional rear camera >>
Wireless or wired?
A wired system is always less susceptible to external interference. Therefore we recommend this alternative if you have the possibility to pull a cable through your car. Especially for horse trucks we recommend a wired system. Therefore consider our wired alternatives:
More information on the VZ107W wired reversing camera system >>