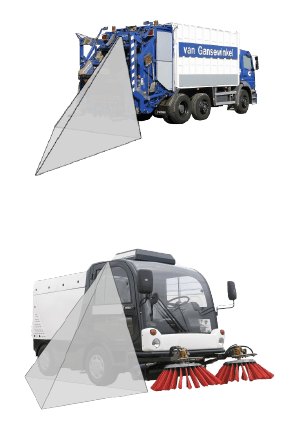 Many stops, accelerating, braking and slow driving in urban areas characterize the driving behaviour of public services – cleaning vehicles and garbage trucks. Good visibility is of great importance in the waste sector.
Many cleaning vehicles suffer from a huge blind spot, for example the street-sweeper. The urban areas are getting busier with cyclists, mopeds, scooters, poles and other objects which exacerbate the problem. Because of the closed vehicles often the interior mirror cannot be used. To work efficient, safe and clean; the solution is a rear view camera system with blind spot camera from Van Zwitserland
Garbage trucks
Within the environmentally sector the European safety standard BS EN1501 requires a rear view camera for garbage trucks. Van Zwitserland BV can advise on legal requirements and ensure the right products.
Van Gansewinkel
Van Zwitzerland BV has recently conducted a large project for Van Gansewinkel. More than 80 garbage trucks are equipped with a rear view camera and blind spot camera. In our business cases you can read more about this project.
Installation and assembly of reversing camera systems
Van Zwitserland has a professional and dedicated team with accredited and certified field engineers. We have multiple installation locations nationwide and we have access to a flexible team of mechanics that can install in virtually any location in the Benelux as well. Flexibility is a key concept in our organization and we fully understand that downtime costs money. Therefore together with our clients we search for the most appropriate assembly day.
Contact
Please contact Van Zwitserland via the contact form or by simply calling 015-2125111. One of our colleagues will look with you into the best possible solution for your cleaning vehicles.
Purchase direct a Reverse / blind spot camera system
If you don't need advice from one of our staff members and / or you have the knowledge and manpower for the installation. Then we recommend the VZ 207W Pro Achteruitrijdcamera Set, which you can order simply direct online.