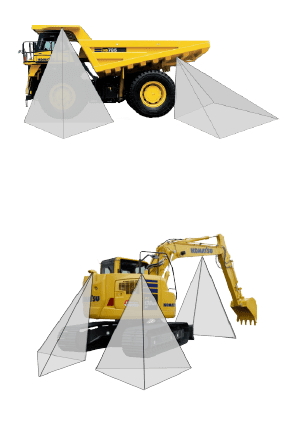 For earthmoving machinery and industry an efficient and safe working environment is of great importance. The ISO5006 standard requires good visibility all around the machine. Unfortunately, this standard is not always the met. The professional camera systems of Van Zwitserland increase the visibility so that the standard is met. Moreover, it reduces the risk of accidents and damages. With our robust and shockproof rear view (back-up) and side cameras, the driver has a good view around the vehicle; both during daylight and in the dark.
Radar
Apart from camera systems Van Zwitserland has patented proactive pulse radar systems as well. These give an audible and visual signal when there is something or someone behind the machine. The shockproof radars operate in the harshest weather conditions up to 10 feet away.
Installation and assembly of camera systems for industry
Van Zwitserland has formed a professional team with its own authorized and qualified personnel. We have several installation locations and also have access to a flexible team of engineers that can install our systems at virtually any location. Flexibility is a key concept in our organization and we understand as no other that downtime will cost money. Therefore together with you we'll search for the most appropriate installation days.
Contact – Van Zwitserland will help you safely on your way.
We have the solution for you! Please contact Van Zwitserland via the contact form or by simply calling 015-21 25 111. Together with you one of our employees will look into what the best solutions are for your machine.
Purchase direct
If you don't need advice from one of our staff members and / or you have the knowledge and manpower for the installation. Then we recommend the VZ 207W Pro Reversing Camera Set, that you can order slimply direct online.